What makes me really proud about the existence of ME TOO is its straightforward pointing towards the horizon we have behind our eyes, where those people we don't really understand live, those who aren't visible, not clearly so, those who need more parenting time (or more parents). This film, an island unto itself, knows what it speaks about and it does so in the first person, making us feel closer to them, to those who were born with an extra chromosome. By placing reality in front of us and brushing it with the magic of understanding, ME TOO takes us down a path riddled with beautiful details, as well as beautiful situations filled with such harshness that we can only help if we feel ashamed.
This is a love story on two levels; I suppose we could call it a mixture. It's not an easy thing to do, but it gets you from the start with very little in the cooking pot and unprecedented courage as it scales a wall that grows higher and higher until it reaches its goal: to teach us how they love and to learn to love them, on the inside as well. People with Down syndrome are joyfully complex in their interior and, on the surface, what can I say? We all know they are the most sincere and open people in the world. They have their own sense of humor that leads to tenderness, and in this film they are allowed to live that way, without being manhandled.
I can feel excited and laugh as much as I want with ME TOO, as I have been a father, for the past sixteen years, of a lucky charm girl named Alicia. The production company is named after her; she's my partner and is very present in my life. Now I can say that I'm also proud to be a father (one of them, along with Promico Imagen) of this lucky charm film, although not a mother (that only happens on the films I direct). So, with a father's true love, I'm enjoying the thought that thanks to ME TOO our children may well discover more parents, that is, all kinds of admirers and loved ones.
As to the maternal figure, and I mean the mother as the true author, gestating and birthing the creature, ME TOO has two of the best ones: Antonio Naharro and Álvaro Pastor. To the parental threesome we must add Koldo Zuazua, the true patriarch in this story.
Now, for us (the family) there only remains to wait for the audience to walk in, open their eyes and see how the beautiful faces of our main characters, Pablo Pineda and Lola Dueñas, light up the screen. I'm sure that once their love story begins to create currents, needs, obstacles, spaces… Once it is habitable, the spectator won't be able to resist a great truth, a truth as big as can be, a feeling that something is beginning, something intimate and delicate, a pure emotion. Perhaps then, from the inside, the spectator will discover a new horizon where all those other loves are clearly visible (you can feel them, but you cannot always live them). It was always there, surrounding us, but seeing it so close will help us clear up our existence.
In my imagination I see ME TOO taking off in Donosti and never coming down. A trip through time and space in this world would be fascinating, of course, but, above all, it's what its five inhabitants deserve. Thank you Álvaro, Antonio, Koldo, Lola and Pablo for existing within this film!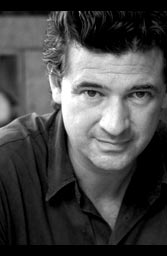 JULIO MEDEM is
screenplayer and director.
As producer has films like
'The Basque Ball' (2003),
'What´s under your hat?' (2006), 'One per cent: Schizophrenia' (2006), 'Chaotic Ana' (2007)
and 'Me Too' (2009).